Robotic Welding Cells
Robotic welding cells offer the potential for tremendous safety, speed, and quality with welding tasks.
Robotic welding cells are one of the most popular and widely used applications of robotics. Robotic Welding Cells increase quality and increase consistency which results in the ability to quickly increase throughput and in turn increasing turnover. Pressure to reduce costs and increase output, in hazardous working environments, can lead to high employee turnover and increased work related injuries. Sourcing experienced welders can also be time consuming, resulting in delays in production and increased costs.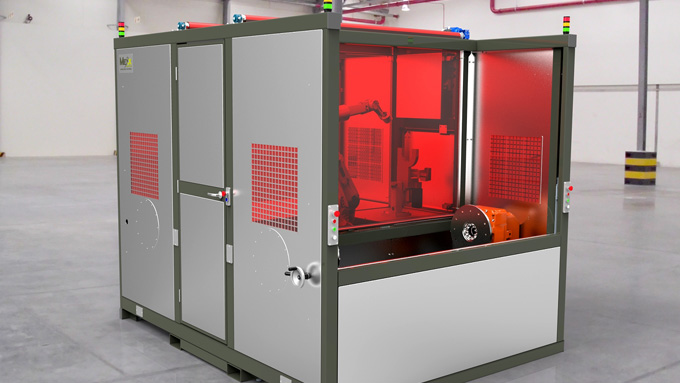 Robotic Welding Cell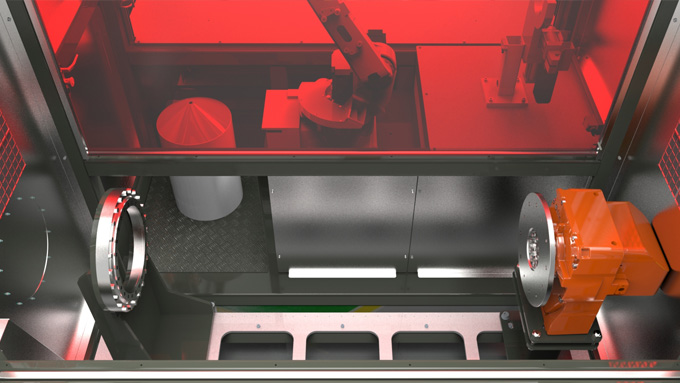 Inside a Robotic Welding Cell
Benefits of robotic welding cells
The benefits of integrating robotic welding cells within an automated manufacturing process include:
Increased welding output
Repeatable welds
Less work related injuries
Increased reliability, quality and consistency in welded products
Less reworking of welds
A greater competitive edge through quality guarantee
Certified welds

Welding Robotics represents a highly advanced welding mechanisation and automation. In welding robotics, the welding apparatus controls both the motion of the welding end and the welding process according to a preset program.
Modern technology allows for welding increasingly small batches in a cost-effective way. Even individual pieces have been successfully manufactured in robotised environments.
Robotic welding cells can be set up to perform repetitive, standardised or customised welding jobs. This simplicity and flexibility offers huge advantages for many businesses in terms of productivity and operational costs.
Certified welds can be certified via a programmed process, due to the consistency of the weld being able to be produced with mathematical precision, which is extremely difficult to re-produce using even a highly skilled welder or boiler maker.
One example where a specific weld is best  achievable via robotic welding is the Fronire TIME - for very long weld seams with a large cross-section and a high deposition rate – which is too fast to be done by hand and is most effectively used with robots.
Robotic welding cells obtain a more consistent weld, every weld by enabling the robotic system and the welding system to  communicate to one another and modify how they are operating automatically.
One can further automate the process  and increase your productivity by using robots  – to simply load and unload parts into the weld cell for welding – reducing imminent workplace risk. Customised loading and unloading systems can  be integrated through the Robotics Automation processes to reduce the chances of workplace injury..
Consistent quality improvements via automated welding procedures are realised due to decreased faults by removing human fatigue and error. There is no need for reworks.
The welding system does everything independently according to a preset program.
The cells can be integrated with existing welding positioners, which make it possible to control and weld heavy, small or large items.
MexxWeld – FX/FX RD/FX RD/RD
Mexx  Engineering has listened to welding industry requirements and has developed a series of standard welding cells (MexxWeld) which have several variants of fixed and rotary tables with various configurations of:
FX – Large Fixed Table (2100mm x 900mm) and
RD – Rotary Table (1800mm x 700mm)
Mexx Engineering can design and implement robotic welding cells - that integrate fully with other robotic and automated systems that you may already have in place. We can also design, build and install single and multi-robotic systems, other than welding cells and automated systems – resulting in an automated system with special purpose machines and robotic cells.
The MexxWeld, welding cell system is movable by forklift via it's integrated folk tines. Once in place and connected it is ready to start operating, this is within minutes of delivery.  The Mexxweld has  fully enclosed work areas, which ensures safety. The internal weld curtains ensure operators are protected from weld arc on the 2nd bay. The doors are opened automatically ensuring maximum production output. The robot is always welding at a high production rate.
Applications of robotic welding cells
Construction
Steel pipes
Car manufacturing
Arc welding
Industrial welding
Plasma arc welding
MIG (metal/inert gas) welding
TIC (tungsten inert gas) welding


Welding components are sourced from both Fronius and Kemppi.
For more information on robotic welding cells automated systems, call 07 5571 5733, email info@mexx.com.au or complete our online enquiry form.