About
Mexx Engineering
Mexx Engineering specialises in design and development of innovative automation and robotic systems and solutions. 
Mexx Engineering is one of the leading innovative robotics automation company's in Australia. Year on year improvements in technology, workflow and developed systems means that no matter when you decide to utilize Mexx Engineering, you know you're working with the most innovative, cutting edge robotic automation company in Australia.
The founder and Managing Director, Luis De Jesus and his team are spectacular in their ability to solve complex automation problems which result in beautifully intricate systems which are simple to operate. It's almost like Luis speaks the language of robotics in fluent tongue.
Luis' hands on approach allows him to be kept abreast of technical aspects of the business and in-part invaluable experience on his team.
Luis enjoys maintaining quality client relationships and open communication channels. Therefore it is not uncommon for him to be onsite during several stages each projects lifecycle, from Sales through to Commissioning. Given Luis' love for robotics and problem solving, it's difficult to pull him away from an opportunity to be part of the maintenance and support processes.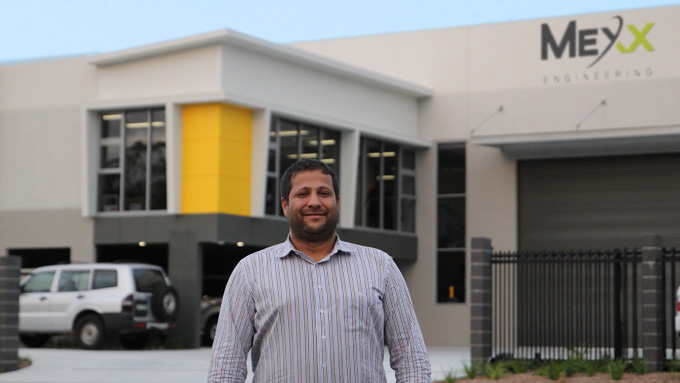 Luis De Jesus, Mexx Engineering, Gold Coast Factory
Luis is supported by several key roles, including:
Personal Assistant

Office Manager

Finance and Purchasing Officer

Engineering Manager

Production Manager

Mechatronics Engineer

Mechanical Engineers

Design Engineers

Electrical Engineers

Fitter Machinists

Equipment Assembly Team

Verification and Validation Team

Factory Commissioning Team

Maintenance and Support Mechanics and Engineers
Australia's manufacturing future is bright
Luis's and Mexx Engineering's story is both passionate and inspiring. It is evident when speaking with Luis and his Team that the future for a higher skilled Australian workforce is our path but also that Australia's manufacturing future is much brighter due to the introduction of smart robotic and automation systems. This allows both simple and high-tech goods to be produced at competitive prices to both international and Australian manufacturers via the use of robotics and automation.
End users introducing robots to their production processes have typically seen a significant transformation in their productivity and efficiency, with higher levels of output, product quality and flexibility amongst the many improvements reported.
Robots can be left running overnight and during weekends with little supervision, so you can increase your output levels and meet your client's order deadlines. A robotic solution will not need time away from production for breaks, sickness, distractions or lapse of concentration
Robots can readily take over unpleasant, arduous or health threatening tasks that may be currently undertaken by manual workers. By using robots, you can decrease the likelihood of accidents caused by contact with machine tools or other potentially hazardous production machinery or processes. They can also help to eliminate ailments associated with repetitive or intensive processes.
The high precision demanded by today's industrial processes requires the highest levels of skill and training. With highly skilled manual workers becoming harder and more expensive to employ, robots can provide an ideal alternative. Once programmed, they are ready to begin work, with none of the costs associated with recruitment or ongoing training of people. Robots can offer great flexibility, in terms of work patterns and the ability to handle different production tasks.
With robots you can reduce the cost of consumables used and reduce wastage. By moving products faster in production, businesses can better predict the production rate and ensure a fast and efficient service is delivered.
The use of technology ensures the future of the manufacturing industry of Australia and it's ability to meet the ever increasing customer demands and expectations.
Some may see the introduction of such technologies as a threat to Australian jobs but in fact it's the opposite. Humans were not designed to sit and stand in one place for hours on end. Nor should we compromise our safety through high risk manufacturing processes. Once again robotics allows Australian's to work smarter with less risk or harm. 


It's no wonder Mexx Engineering is the only ABB Robotics - biggest robot manufacturer in the world – AVP (Authorised Value Provider) based in QLD. In the robotics automation industry this means that Mexx Engineering has been accepted by their peers as an extraordinarily special robotics automation company.
Mexx Engineering looks forward to helping Australia work smarter, not harder, by developing full turnkey automation solutions to enhance your business.