Packaging & Palletising
Manufacturers in the packaging & palletising industry have come to expect the best performing robotic solutions available globally.
Mexx Engineering is one of the few robotics and automation companies in Australia. We are known for designing and manufacturing complete lines that are built to handle a range of functions from upstream processing, sorting and packing through to the end of line palletisation. 
Mexx Engineering can streamline the packaging & palletising industry using innovative and versatile systems such as:
Autobagger System
Bi-directional Palletiser and Depalletiser System
Bottle Palletiser System
De-bagger System
Conveyor System
Continuous Bottle Turner
Vision System
Our top-of-the-line robotic systems can accelerate and streamline all these processes through:
Custom Design
Custom Automation
The implementation of robotic automation within the packaging & palletising industry offers incredible potential for improved safety, quality and productivity by enhancing process monitoring and control.
Packaging and palletising machines manufactured by Mexx Engineering are user-friendly. It is built with combined controllers and instinctual human-machine interfaces. They're brainier with advanced sensing and software, and more proficient at handling product variants.
Robotic automation through Mexx Engineering guarantees flexibility, quality output and reliability. Production line automation allows companies to leverage resourcefulness and efficiency without sacrificing quality.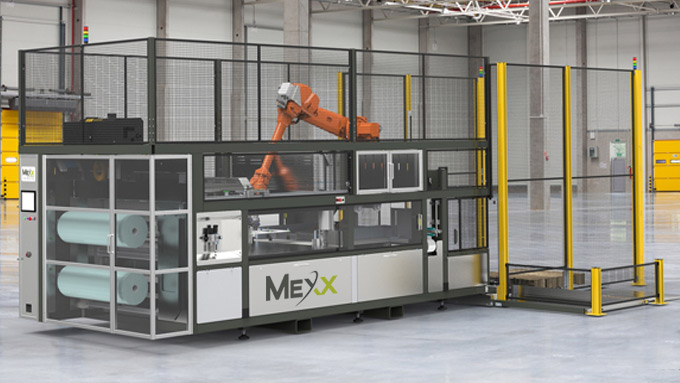 The Autobagger System
Pick and place robots continue to develop up to this date. They are an essential part of automation, replacing human error and injury in manufacturing with efficiency and speed.
Palletisers can handle environments that would otherwise be hazardous and dangerous to workers. Instead of more labourers to do this work, many companies have adopted palletisers into their working environments to get the job done more quickly, effectively and safely.
Automated palletising gives manufactures continued advantages such as speed, error reduction, decreases in product damage and more accurate quality loading.
So, where does robotics fit into package automation? Just consider for a moment how many motions a robot can perform that could add value and profit into your production line. De-panning baked goods can be delicate work but can be done with precision and without causing damage to the product.
Robotic automation can mimic human movements. Removing the worker from this process of picking and placing tasks. It gives the worker a chance to move on from such repetitive, unskilled tasks that we find so tedious and unfulfilling, yet are so critical to the production needs. Hence, robotic packaging provides an opportunity to maximise your staff while maintaining or expanding productivity. Win, win!
---