Marine
Manufacturers in the marine industry have come to expect the best performing robotic solutions available globally.
Mexx Engineering is one of the few robotics and automation companies in Australia. We are known for designing and manufacturing complete lines that are built to handle a range of functions from upstream processing, sorting and packing through to the end of line palletisation. 
Mexx Engineering can streamline the marine industry using innovative and versatile systems such as:
Robotic Weld Cell
Robotic Paint Booth
Vision System
Our top-of-the-line robotic systems can accelerate and streamline all these processes through:
Custom Design
Custom Automation
The implementation of robotic automation within the marine industry offers incredible potential for improved safety, quality and productivity by enhancing process monitoring and control.
Robotic welding machines and spray booths are becoming more prominent themes in boat building, shipyards and the marine industry.
The shipping and marine industry continues to remain a labour-intensive sector, and now businesses are looking to amplify their use of robotics and automation technologies. This opportunity is where Mexx Engineering can assist in providing a top-of-the-line solution to the shipbuilding industry.
The Robotic Weld Cell 
The MexxWeld, welding cell system is movable by forklift via its integrated folk tines. Once in place and connected it is ready to start operating, this is within minutes of delivery.  The Mexxweld has fully enclosed work areas, which ensures safety. The internal weld curtains ensure operators are protected from weld arc on the 2nd bay. The doors are opened automatically ensuring maximum production output. The robot is always welding at a high production rate.
Mexx Engineering developed a series of standard welding cells (MexxWeld) which have several variants of fixed and rotary tables with various configurations of:
RK/RDK - Rotary Table (1200mm x 1800mm to 1400mm x 4000mm)
FX – Large Fixed Table (2100mm x 900mm) and
RD – Rotary Table (1800mm x 700mm)
We can also design, build and install single and multi-robotic systems, other than welding cells and automated systems – resulting in an automated system with special purpose machines and robotic cells.
 Applications of robotic welding cells can include:
Construction
Steel pipes
Car manufacturing
Arc welding
Industrial welding
Plasma arc welding
MIG (metal/inert gas) welding
TIC (tungsten inert gas) welding
KEY FEATURES OF MEXX WELD CELL:
Rotary axis coordinated with a welding robot
The system contains dedicated in feed table or cut pipe from 1m-3m
Notification light tower and alarm to notify the operator of the cell status and material outages.
Operator interface through Robot Teach Pendant.
System safety interlocked and guarded as per Australian and New Zealand Standards
The system contains fixed part loading locations for each of the parts to be welded
Dedicated trolley with automatic locating points for finished products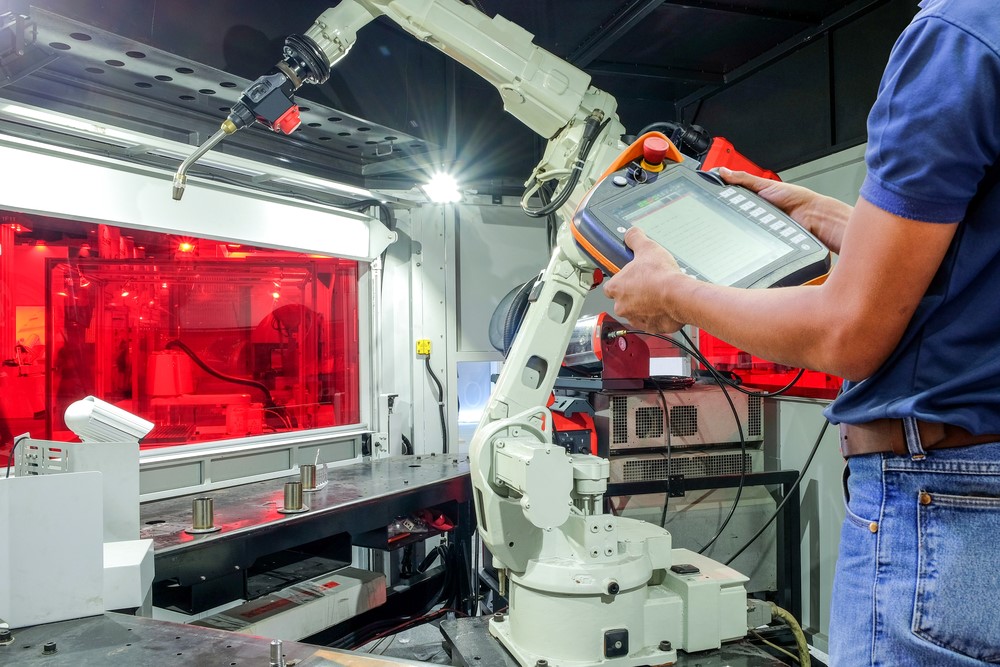 MexxWeld Cell (RD-RD-K 2600)
MexxWeld Cell (RD-RD-K 1520)
MexxWeld Cell (FX-RD)
The Robotic Painting Booth
The Robotic Painting System is capable of increasing finishing quality, whilst delivering higher production speeds and productivity. It is easy to install and program, and the robots deliver the same high-quality finish time after time without issues such as operators becoming tired or repetitive motion injuries. 
Applications of robotic painting booth can include:
Aviation & Aerospace
Construction
Car manufacturing
Automotive repair
Industrial spray painting
KEY FEATURES OF A ROBOTIC PAINT BOOTH SYSTEM
ABB Robot
Integrated bake oven
Custom spray booth with dry medium air filtration
Temperature controlled paint booth to maintain consistent paint environment all year round
The integrated automatic indexing system
Notification light tower and alarm to notify the operator of the cell status and material outages.
Operator interface through HMI
System safety interlocked and guarded as per Australian and New Zealand Standards
The marine industry is currently dependent on experienced workers who face the prospect of long hours and challenging tasks such as welding, cutting, blasting and painting. Unfortunately, the dwindling labour force is unable to cope with the increasing demand. Robots are now filling the labour gaps while sparing humans the most dangerous and thankless repetitive tasks.
Due to the considerable volume of heavy machinery involved with working in the industry, accidents and fatalities are more likely. Of course, businesses have rigorous safety procedures in place, but no matter, there is always going to be hazards and risks. By using robotics, shipyards can protect humans from possibly dangerous situations while improving the quality of throughput.
Mexx Engineering can design and build a machine that can perform:
material handling
routing of hull
spray painting
welding
Recent movements suggest that the shipbuilding industry is acknowledging robotics as a force of efficiency together with a technique to prevent workers from performing dangerous tasks such as welding.
Welding is one of the main occupations in shipbuilding and is directly related to the cost and quality of products. Automation of the welding process in shipyards is vital to improving productivity, and robots play an important role. Welders frequently operate in tight spaces that are uncomfortable and may require them to change position continually over long distances. Robots carry out repetitive tasks quickly, tirelessly, and accurately.
On the other hand, grit blasting is a dangerous procedure that creates dust clouds and hazardous environments for workers. Some shipyards have implemented the use of ultra-high power water jets via manual blasters for stripping, but the technique has demonstrated to be labour-intensive and incredibly time-consuming. Mexx Engineering can develop a highly flexible robot that can strip using the same method of blasting, but the results now include environmental benefits and worker safety.
Benefits of robotic painting and welding system
The benefits of integrating robotic painting booth and robotic welding cells within an automated manufacturing process include:
Increased painting or welding output
Repeatable finished product
Less work-related injuries
Increased reliability, quality and consistency in painted or welded products
A greater competitive edge through quality guarantee
---