Maintenance & Support
Could some simple changes to your manufacturing process result in huge improvements in your profitability?
Service Contracts
Mexx Engineering's highly skilled staff will ensure the highest level of your systems performance thus maximising your productivity. In order to continue floorless production all machinery must be properly maintained. As part of every system delivered, Mexx Engineering pass on the standard manufacturer's warranty on all supplied equipment and a 12 month defect free warranty period after practical completion.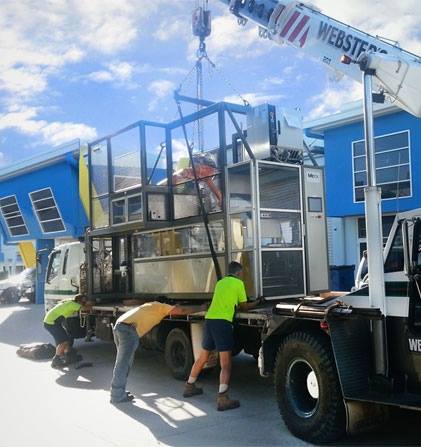 In addition to this Mexx Engineering offers a pre-purchased contract arrangement whereby we will perform your routine Preventative maintenance of the robot and all supplied equipment on a yearly basis after completion of the project. Mexx Engineering base their service schedules on both the Manufacturers 
recommended service schedule, the system duty cycle, the demands of your production and Mexx Engineering's years of industry knowledge and experience.
Furthermore Mexx Engineering offers expert service and solutions on all warranty, on-demand, system upgrades and relocations.
---
The benefits of Preventative Maintenance and Scheduled onsite Services:
Increased reliability from your system which in turn increases your productivity and decreases downtime.
Convenience of being able to plan around scheduled maintenance dates and times.
Peace of mind knowing that your staff's safety is maintained.
Extends the lifecycle of the system/machine.
Enhances the performance of the system by increasing uptime.
Save on power costs, poorly maintained equipment requires more electricity or fuel to run.
Trained and certified service/industry professionals
Problem prevention – designed to address minor problems prior to them becoming major issues.
Details of Service
The goal of the service is to ensure that your system runs at optimum capability and efficiency for it's full life cycle ensuring maximum performance.
The Technician will inspect the overall product performance and confirm compliance with the original life cycle specifications.
Regularly scheduled visits .....
Skilled technician will inspect your system, inspect and test the product functionality and adjust mechanical assembly connections for tightness and alignment, inspect moving parts for abnormal wear and tear.
Perform preventative maintenance where specified
Advise customer of issues requiring additional attention
Update service log
Customer satisfaction is of paramount importance – to provide a superior level of service the technician requires the following
A means to gain entry to and from the system
Ability to bring tools and transportation assistance products on site
Use of some power tools may be necessary
Access to work stations to complete service steps
Service will be provided during normal weekday business hours on a 5 x 8 basis unless otherwise specified/quoted.
Scope of Responsibility - Mexx
Certified technicians to perform services
Ensure inspections is per manufacturer's specification
Conduct work in a timely manner – specify?
Identify issues
OSHA safety certification
Scope of Responsibility – Customer
Provide an authorised point of contact to the technician
Notify Mexx technician of any special clearance or other security or insurance issues affecting the on site visit
Make dates available for scheduling of service
Provide a point of contact at completion for sign-off and acceptance
Identify any related work impacting service delivery
A customised service contract can be designed to best suit your specific needs, ensuring your systems perform at optimum levels. A service log is created and updated at each scheduled visit.
Mexx Engineering Service Plan(Optional 12 month contract).
One(1) Major Robot Service, covering
Robot System
Process Equipment
Cell Safety Systems, Safety PLC, I/O Interfacing
Gate Switches, Light Curtains, Emergency Stop Switches, Interfacing & Cabling
One(1) Minor Robot Service
Robot System
Process Equipment
As well as:
Written service report
System software backups
Safety system checks
Risk assessment
Document repair recommendations as required.
Warranted parts – any parts covered by warranty that cannot be replaced or repaired during the scheduled visit will be ordered by the technician , and an additional service call will be planned for replacement of the part(s), requiring a service fee only. Customers may choose to have warranted parts replaced at the next scheduled service call if the need is not urgent (saving a return service call fee).
Customer service notification – technician will notify the customer in writing of the non-warranted replacement parts required in order for the customer to place an order for the parts and book a service call.
Service log review – Technician will review details of the service with customer
 
Your Maintenance contract with Mexx Engineering will offer a 24/7/365 service contact number and a guarantee to have a technician respond to your call within 2 hours. Customers who take out the contract will be provided with the following services:
Priority Breakdown response
Unlimited Phone support
Discounted hourly labour rate
Priority supply of spare parts
Discounted rates on extended training courses
System warranty work extended to 24/7
Mexx Engineering Service Plan
Mexx Engineering Remote Service Plan (Optional 12 month contract).
Remote service plan is a PC based remote support and diagnostics tool that Mexx Engineering technicians can use to get your Robot/machine back in production faster.
24/7/365 Online support of compatable system devices to keep you in production
4G(where available) Standalone communication, using a tablet and headphones that are housed in a case, allows us access to software and to visually see what is wrong via the tablet webcam.
Will allow a Certified Programmer access to system hardware
Secure access with Remote Authorisation Level and ability to control and update software
Enable monitoring of Robots, PC's and PLC'S
Will allow webcam access to view a pre-set area of cell in real time
Will email a series of video if requested of the fault event as it occues
Access for Mexx Engineering staff and client
Other Services
Extended warranty coverage, which can be integrated with the Preventative Maintenance process
Pricing
Changes in the product or changes to the detail of work after the original scope of work is set may require a new quote
Terms and Condition
Standard Mexx Engineering terms and conditions apply and are available ......"