Robotic Paint System
The Robotic Paint System is a complete painting facility. The robotic system can monitor and control the paint consistency and spray area. A fully automated product handling system manages the product through all painting, handling, and baking process.
This system is capable of increasing finishing quality, whilst delivering higher production speeds and productivity. It is easy to install and program, and the robots deliver the same high-quality finish time after time without issues such as operators becoming tired or repetitive motion injuries. 
Applications of robotic paint system can include:
Aviation & Aerospace
Construction
Car manufacturing
Automotive repair
Industrial spray painting
Robot painting produces top quality results. Industrial painting robots can apply substances without leaving behind drips, inconsistencies and over-spray. Paint and coatings are applied precisely and consistently.
Industrial painting robots can provide extraordinary part convenience. Robotic arms are slender and widespread, thus enabling them to be installed in several locations such as a shelf, wall, roof or rail. It also allows for even greater flexibility and reaches.
The ability to lift and maneuver heavy loads, perform repetitive and hazardous drilling, milling, bending, stamping and cutting operations and their ability to work in ever-changing environments makes automotive systems and robotics indispensable within the metals industry. 
Mexx Engineering can assist manufacturers in producing quality work with faster turnaround periods.
Benefits of a robotic painting system
The benefits of integrating robotic paint system within an automated manufacturing process include:
Increased painting output
Repeatable finished product
Less work-related injuries
Increased reliability, quality and consistency in painted products
A greater competitive edge through quality guarantee
Robotic Paint System
KEY FEATURES OF THE ROBOTIC PAINT SYSTEM:
ABB Robot with integrated component positioner
Integrated bake oven (optional)
Custom spray booth with dry medium air filtration
Temperature controlled paint booth to maintain consistent paint environment all year round
Integrated automatic indexing system
Notification light tower and alarm to notify the operator of the cell status and material outages.
Operator interface through HMI
System safety interlocked and guarded as per Australian and New Zealand Standards
HOW DOES IT WORK?
The robotic paint system is an automated robotic painting system. Depending on the customer's specification, the robotic paint booth can be made with 12-colour changer or more.
In a system with 12-colour changer, it can do 2K or 3K variation of different hardeners and paint application. It measures the rate in which the fluids are applied. This way it ensures that the right mixture of paint and hardeners are consistent. The consistency of the paint application helps in making sure that there is less overspray. There is more concentration of paint on to the product rather than into the air. This also allows a much better finish. 
Adding a conveyor system and curing oven can convert the robotic paint booth into a fully-automated turnkey system. Where the raw material is indexed into the paint booth, sprayed and then indexed out of the curing oven as a finished product.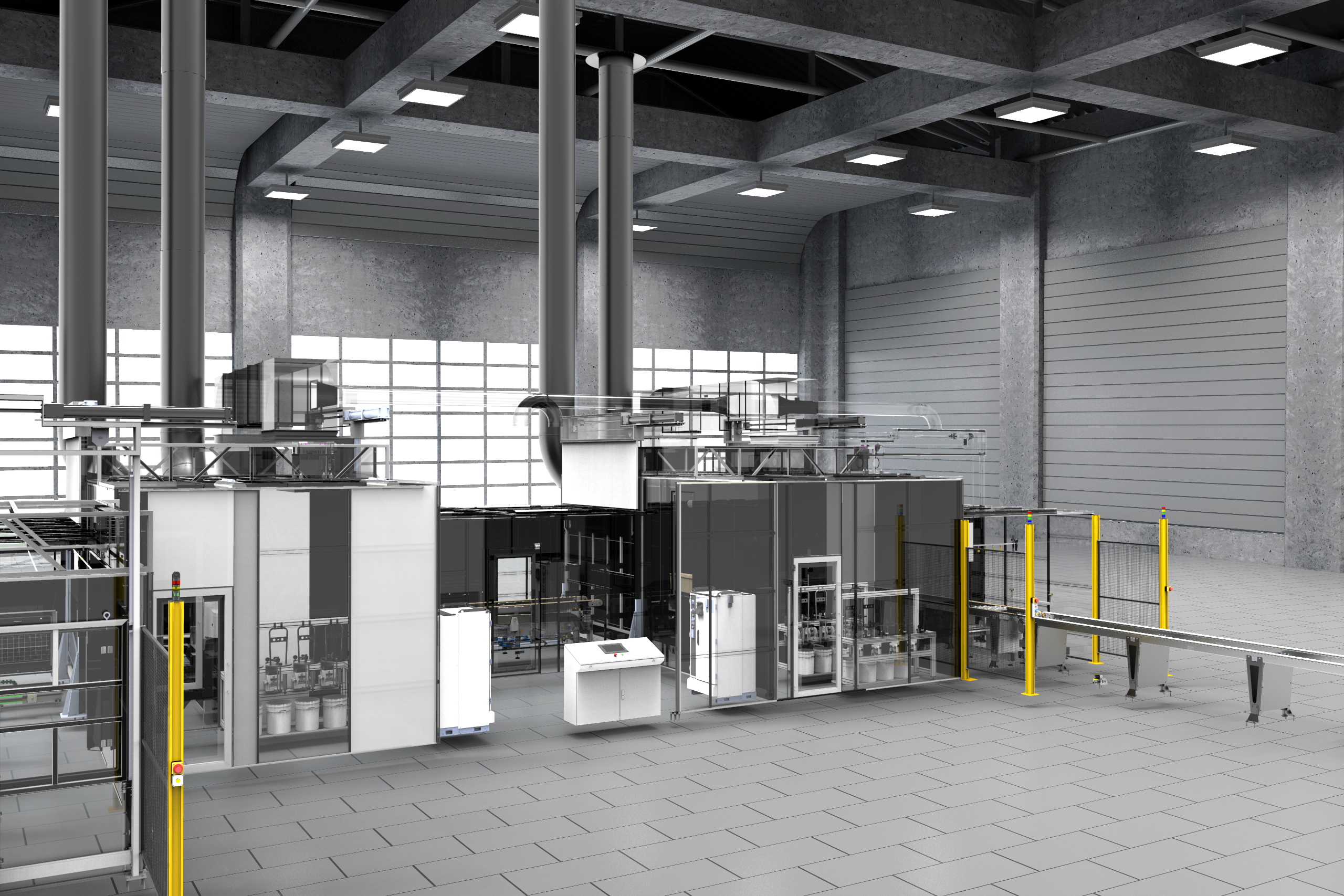 APPLICATIONS FOR THE ROBOTIC PAINT SYSTEM:
The integration of high-end robotic paint booth can increase productivity or efficiency within the following industries:
TURNKEY SYSTEM
This type of setup will require a vision system to detect the barcode attached to each product. This setup is called a turnkey system. The robotic paint booth is smart and programmable. 
As a turnkey system, the robotic paint system is a fully automated system where the following components are purposely added to create a sophisticated machine:
DESIGN AND BUILD PERIOD
As a stand-alone machine or EOM product, it may take around 25-weeks from purchase order to delivery. On the other hand, a custom-made turnkey system can take longer depending on the customer's requests and specifications. 
SERVICE MAINTENANCE
Service maintenance is any work necessary to keep all customer facilities in good repair and operating condition. It includes maintaining and repairing essential components of a machine. This excludes explicitly new work and alterations such as:
manufacturing and modifying machines and complete lines
providing decorative treatments
modifying vision systems
attaching or extending items to the machine.
WARRANTY
All of Mexx Engineering machines and turnkey systems come with a one-year warranty on workmanship and materials. 
Each system developed by Mexx Engineering is a seamless automated machine that minimises environmental impact and maximises performance while ensuring the safety of its operator.
For more information, please contact 07 5571 5733 and choose option 1 for sales, to discuss the best combination of equipment and system maintenance to suit your application.
---
---